Water leaks in your home or business are never an issue to be taken lightly. Leaks can be extremely destructive to your property and your pocketbook. Such leaks are often sneaky and can remain hidden from the untrained eye for quite some time. There are, however, some signs that you can look out for if you suspect a potential leak:
The sound of running water without cause.
Spots or cracks that form quickly or unexpectedly.
A higher water bill without having actually used a greater amount of water.
The sudden appearance of mildew.
Leak Detection Services
Sometimes the water damage has no obvious culprit because the actual leak lies deep within your concrete slab where the hot and cold water plumbing lines beneath the slab have somehow become jeopardized. Therefore, it is highly recommended that a professional should come out and locate any hidden leakage within the foundation of your property if you see even the most minimal sign of water damage.
In just a small amount of time, a tiny leak can turn into something fierce and destroy one of your most valuable investments. Basements and crawl spaces can become flooded before you even understand exactly what's going on. In order to best protect your residential and/or commercial property, the exact cause of that leak needs to be pinpointed and repaired before the damage reaches a whole new level. For customers across the entire east Texas region, East Texas Leak Locators is the best go-to option for getting such repairs done and done with precision.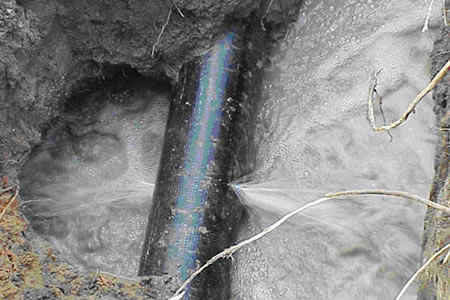 Because of all the frustration and time that goes into dealing with a pesky leak, we know that this is a service that you can't afford to put off for one more day! We have seen thousands and thousands of dollars lost by clients who waited too long to seek professional assistance with their water issues. The time that it takes to call or email us is only a fraction of the time typically spent worrying over your slab leak and trying to repair it yourself without success.
We've seen brand new flooring headed straight for the dumpster. There have been construction projects halted, with the need for more supplies wreaking havoc on an already tight budget. We all know that mildew thrives in moist conditions, and such conditions are rampant when water begins pooling in your walls or floors. The potential for damage can, thus, affect more than just your pocketbook.
Our desire is for our customers to hang on to all of that extra money! The cost of new materials isn't the only financial drain that occurs when dealing with a leak. The cost of wasted water in and of itself just sends more of your money right down the drain. A neglected water leak spikes your water bill and does not serve the environment well, either.
We encourage home and business owners to save themselves the time and hassle by reaching out for our service options right away. Our prompt service and professional demeanor make us one of the top leak detection services in the east Texas area. Give us a call today and allow us to take those water worries off of your hands!
Long-Lasting Water Leak Repair
When repairing a leak, it must be adequately fixed to avoid a reoccurring issue. Our team of technicians works to repair and fix any leak with quality that lasts. When we provide a full re-pipe, the piping we use comes with a 25 year factory warranty, and we provide a 5 year warranty on our labor.
Call East Texas Leak Locators today to learn more about our leak detection and repair services. We are available for 24/7 emergency services.