Quick Response for Insurance Plumbing Claims
Interior water damage has the potential to cost a homeowner a lot of time and money. A leaking water heater, broken ice maker, or busted plumbing pipe can lead to catastrophe. Water damage can ruin personal property and also lead to a dwelling's drywall, ceiling, flooring, and fixtures being destroyed. Therefore it is important to call the certificated professionals at East Texas Leak Locators immediately after observing water damage.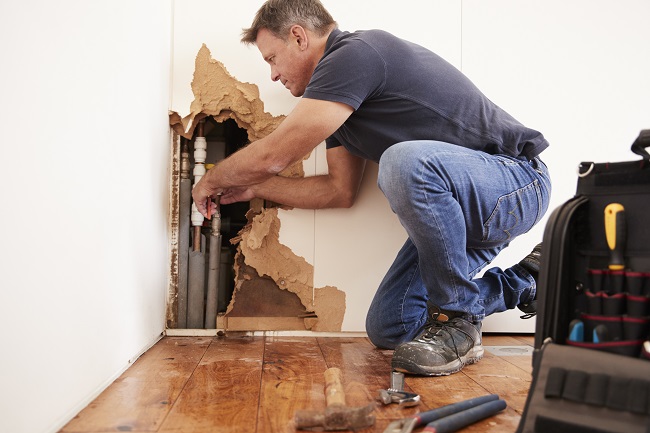 The Insurance Claims Process
If water damage and a plumbing leak are observed by a homeowner, it is important to try to minimize the damage as soon as possible. When filing an insurance claim, the agency in charge of the homeowner's policy needs to be contacted so they can create a claim. Due to water damage being present and having a chance to get worse as time goes on, the agent's office will typically advise the policyholder to contact a plumber right away to stop the leak and take measures to decrease the amount of water damage within the home.
The homeowner should also turn off the water and if standing water is observed, he or she should get towels and fans to try and stop the problem. A plumber will most likely need to arrive on-site before the insurance claims adjuster, therefore the homeowner needs to take photos of the initial water damage and leak problems for verification purposes.
Trained Professionals
According to the Insurance Institute for Business and Home Safety, "Plumbing supply system failures cost an average of $5,092 per incident after the deductible was paid."
It is important to use highly trained plumbers in the event of an insurance plumbing claim and not a general contractor or handyman. East Texas Leak Locators understands the need to address damage concerns early and fix a leak immediately. We are able to provide report copies and invoices to insurance providers (with permission) in order to help a customer get reimbursed for repair costs.
Our trained professionals at East Texas Leak Locators are available in emergency situations and also for general maintenance and installation purposes. Contact us today!